Spencer Brown
Utah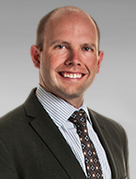 Strong & Hanni, PC
102 South 200 East
Suite 800
Salt Lake City, UT 84111
Tel: 801.532.7080

Email:

sbrown@strongandhanni.com
Web:

www.strongandhanni.com
Spencer is a shareholder and is the chair of Strong & Hanni's appellate practice section. He routinely practices before the Utah Supreme Court, Utah Court of Appeals, and Tenth Circuit. He has handled more than thirty appeals, winning more often than not. He has handled everything from federal civil rights appeals to complex business and construction cases, to cases that change the way the courts interpret the Rules of Civil Procedure.
Some of Spencer's recent successes include obtaining reversal of a $1,8 million dollar jury verdict in a wrongful death case; reversal of a district court's refusal to award spoliation sanctions in a construction case, where the Court of Appeals set a new standard for how district courts should evaluate spoliation; and affirmance of a district court's refusal to allow a post-trial amendment to pleadings to avoid a damages cap set by the Utah Rules of Civil Procedure, a case in which the Utah Supreme Court set a rule interpreting Utah's Rule 26 damages tier cap for the first time.
Spencer's team includes two additional partners and a dedicated appellate paralegal, all of whom know the rules, customs, and judges they practice in front of. They are committed to getting your case right and making the best argument possible.
Professional Memberships
Utah State Bar
Utah State Bar Appellate Practice Section
Utah State Bar Litigation Section
Utah State Bar Construction Law Section
Utah Defense Lawyers Association
Professional Recognition & Awards
Utah Defense Lawyers Horizon Award recipient, 2019
Super Lawyers Mountain States Rising Star, 2015, 2016, 2018, 2019
Utah Business Magazine's "Utah Legal Elite" 2018, 2019, 2020
Strong & Hanni's Appellate Practice Group will give you a fresh pair of eyes and assist with formulating additional legal theories, adapting or distinguishing the law, and identifying weaknesses in your case as well as your opponent's case. Our appellate attorneys will work hand-in-hand with trial counsel at every phase of the litigation to preserve appellate issues, file appeals, write briefs, and give oral arguments. From revising briefs and participating in moot courts for other attorneys, to handling appeals start to finish, we provide support at every level.
Our appellate attorneys appear regularly in state and federal appellate courts, and have experience filing merits briefs, petitions for certiorari, and amicus briefs. The preparation of these briefs requires more than just an understanding of the pertinent legal issues—it also requires excellent research and writing skills. Strong & Hanni's Appellate Team includes detail-oriented legal writers, talented oralists, and the experience and insight of former appellate court clerks.
We work hard to keep up with state and federal case decisions and legal scholarship that may affect your appeal. Not only do we spend a great deal of time reading the latest opinions from both state and federal appellate courts and following up-to-the-minute legal writing trends, we enjoy doing it! Our extensive practice in researching legal issues is invaluable to your appeal.
Working together, we are confident our attorneys can effectively represent your clients and significantly increase the odds of achieving favorable results. We are happy to consult with you at any stage of litigation.
Strong & Hanni is one of Utah's most respected and experienced law firms. Established in 1888, the firm has grown to 70 lawyers and has developed a wide variety of clients in multiple practice areas.
Strong & Hanni is known for its trial practice in both state and federal courts involving corporate and commercial disputes, transportation, medical and professional malpractice, insurance coverage, automobile, premises, and personal injury.
The firm also provides a wide range of expertise in business and personal legal services in the areas of commercial litigation, business, securities and tax matters, employment law, construction law, government liability, product liability, professional liability, bankruptcy law, creditor and debtor law, and aviation law.
Strong & Hanni was built on the notion of providing experienced, knowledgeable, and professional legal services. The firm maintains this belief and continues to add to the experience and knowledge of its members through the use of technology, professional activities and training.