Shannon Wells Stevenson
Colorado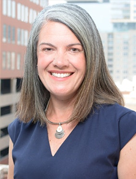 Davis Graham & Stubbs LLP
1550 17th Street
Suite 500
Denver, CO 80202
Tel: 303.892.7328

Email:

shannon.stevenson@dgslaw.com
Web:

www.dgslaw.com
Shannon Stevenson is a seasoned trial and appellate advocate and chair of the firm's Trial Group. She has briefed and argued more than 50 appeals before state and federal appellate courts throughout the Rocky Mountain West. She has also litigated, tried, and arbitrated a wide variety of cases for clients in the energy, natural resources, and construction sectors, including disputes over royalties, implied covenants, environmental contamination, gas gathering disputes, construction defects, product liability, personal injury, and shareholder disputes.
Ms. Stevenson sits on the Board of Directors for the Denver Metro Chamber of Commerce and is a member of the Leadership Denver class of 2020. Since 2014, she has served on the Supreme Court Judicial Nominating Commission, which recommends candidates for the Colorado Supreme Court and Court of Appeals. She is a member of the Colorado Judicial Institute Board, the Law Alumni Advisory Board for Duke Law School, and the Colorado Women's Bar Foundation. Ms. Stevenson is a long-time member of the Colorado Women's Bar Association and served as the President in 2013-2014. She is a past member of the Denver Bar Association's Board of Trustees.
Ms. Stevenson has represented pro bono clients in the state and federal courts of appeals, including handling numerous appeals on behalf of indigent prisoners as a member of the Tenth Circuit's Criminal Justice Act Panel.
Representative Appeals
ASARCO v. Atlantic Richfield Co., CERCLA contribution action (U.S. Court of Appeals for the Ninth Circuit).
Christian, et al. v. Atlantic Richfield Co., 100-plaintiff toxic tort action related to former copper smelter site (Montana Supreme Court).
Hartman v. Ultra Resources, Inc., et al., dispute over net profits interest in Pinedale leases (Wyoming Supreme Court).
Ridolfi v. Riddell, Inc., personal injury action based on brain injury to high school football player (Colorado Court of Appeals).
Haralampopoulos v. Kelly, medical malpractice action concerning hearsay exception for statements made for purposes of medical diagnoses or treatment (Colorado Supreme Court).
When Davis Graham & Stubbs LLP clients become involved in an appeal – either as a party to the appeal or as a "friend of the court" – they rely on a core group of DGS lawyers who possess specialized appellate experience and outstanding analytical, brief writing, and oral advocacy skills.
Our attorneys have argued on appeal in a number of industries a broad variety of complex legal issues, including administrative procedure, advertising, arbitration, commercial leases, constitutional law, construction, contracts, employment discrimination, environmental cleanup, evidence, fraud, insurance, land use, the Lanham Act, legal malpractice, libel and slander, medical malpractice, mining, patents, pension benefits, personal injury, products liability, property tax, public utilities regulation, railroads, sanctions, securities, shareholder derivative actions, ski resorts, sales, telecommunications and use tax, trademarks, and unfair competition.
Our appellate attorneys work closely with DGS trial lawyers to anticipate issues that may arise on appeal. They also undertake appeals or write amicus curiae briefs in cases that have been handled by another firm at the trial level. Our appellate lawyers routinely pursue or defend interlocutory appeals, advise on preserving a trial record for appeal, draft appellate briefs, and make oral arguments in federal and state appellate courts.
Davis Graham & Stubbs LLP enjoys a strong national reputation for its corporate finance, natural resources, and energy law practices, with a particular focus on securities and M&A transactions, complex commercial litigation, and regulatory guidance. For nearly a century, DGS has ranked among the region's most prominent law firms, consistently offering quality legal services to emerging and established businesses in the Rocky Mountain West.
A large number of the firm's lawyers have extensive experience working with companies in the aviation, coal, coalbed methane, health care, hospitality, manufacturing, mining, oil and gas, pharmaceutical, renewable energy, telecommunications, and technology industries.
Many of our lawyers are recognized as leaders in their areas of expertise and nearly half of our partners have been acknowledged in Best Lawyers in America and have received the Martindale-Hubbell® AV® Preeminent peer review rating. DGS ranks first in Colorado in the areas of corporate law and natural resources and environmental law. DGS was also named among the "Best Law Firms" by publisher Woodward/White, Inc., receiving first-tier rankings in both Mining and Native American Law.