Naveen Ramachandrappa
Georgia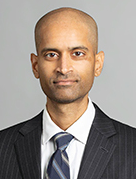 Bondurant Mixson & Elmore LLP
1201 West Peachtree Street NW
Suite 3900
Atlanta, GA 30309
Tel: 404.881.4151

Email:

ramachandrappa@bmelaw.com
Web:

www.bmelaw.com
Naveen's practice focuses on Appeals, Class Actions, and other Complex Litigation.
As one of the leading appellate attorneys in Georgia, Naveen has been sought out by attorneys and clients, both defendants and plaintiffs, to assist trial lawyers with preservation and legal strategy during trial, and to serve as lead counsel for appeals and certiorari proceedings.
As a result, Naveen regularly appears and gives oral argument before the Eleventh Circuit Court of Appeals, the Georgia Supreme Court, and the Georgia Court of Appeals – as well as assisting in jury trials across Georgia.
In addition, Naveen maintains an active class action practice and has been appointed as class counsel by courts in the Northern District of Georgia, Southern District of Florida, Western District of Tennessee, and Georgia state courts.
Our appellate practice serves clients we have represented at trial, as well as clients who hire us to handle the appeal exclusively. We have achieved successful outcomes in many of the largest appellate cases, both plaintiffs and defense, in the history of the state of Georgia.
The firm's strength in this area is bolstered by the fact that virtually all of our partners and associates have served as judicial law clerks. Our lawyers have held clerkships at the Fourth, Fifth, and Eleventh Circuit Courts of Appeals, as well as federal district courts in Georgia, Alabama and Ohio.
Bondurant Mixson & Elmore is an elite group of highly-qualified litigators dedicated to winning high-stakes business disputes. Our clients look to us when they face complex legal issues that require skilled and experienced advocates. We take pride in handling our clients'​ most important cases.
Our success in these matters is based on our deep talent, experience trying cases to judges and juries, and the lessons we have learned in more than four decades representing both plaintiffs and defendants