Max A. Stein
Illinois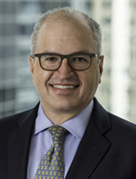 Boodell & Domanskis, LLC
1 North Franklin
Suite 1200
Chicago, IL 60606
Tel: (312) 300-5505

Email:

mstein@boodlaw.com
Web:

www.boodlaw.com
Max Stein concentrates his practice in commercial litigation and has extensive experience representing clients in a wide variety of disputes. Max's approach to litigation is straight forward: find the most efficient, economic resolution possible for the client. Since joining B&D, Max has also used this approach in counseling clients on business and other non-litigation issues.
Max's practice also includes a wealth of experience beyond the courtroom, including appeals, investigations, client interviews, drafting pleadings, motion practice, written and oral discovery, e-discovery issues, working with experts, post-trial briefing and settlement.
Max has employed this approach in countless cases in federal and state courts and arbitrations before the major arbitration organizations. While Max has represented clients in a wide variety of litigation matters, he especially enjoys helping businesses find creative solutions to their disputes and has particular experience with breach of contract claims, shareholder disputes, bank and loan-related claims, civil RICO claims, securities fraud claims, and consumer fraud claims.
Max prides himself on providing clients with practical counsel for their businesses and often serves as a sounding board for clients on litigation and non-litigation matters.
Education:
BA Political Science, Carleton College, 1995
JD with Honors, Order of the Coif, IIT Chicago-Kent College of Law, 2001
Bar Admissions:
State of Illinois
United States Court of Appeals for the Seventh Circuit
Multiple United States District Courts, including the Northern (Trial Bar), Central, and Southern Districts of Illinois, Western District of Michigan, and the Eastern and Western Districts of Wisconsin
Represented plaintiffs asserting civil RICO claims arising out of a scheme to obtain disproportionate share of properties sold at auction in a four-week federal jury trial and subsequent successful appeal, resulting in a multi-million dollar jury verdict against two defendant groups, and multi-million dollar settlements reached during trial with other defendant groups.
Represented publicly traded company in defending against claims brought by a founding member of the company for breach of contract and tortious interference in a week-long federal jury trial, resulting in a favorable verdict, and successful defense of that verdict on appeal.
Represented financial management company in defending against claims brought by former employees seeking to recover forfeited compensation after change-in-control of their employer, including in a FINRA arbitration hearing.
Represented parties in multiple commercial real estate disputes, including both landlords and tenants.
Represented recent immigrant in defending against claims brought by her former immigration attorney for supposedly unpaid fees, successfully establishing at trial that the former attorney was not entitled to any such fees.
Represented shareholder in action against company and other shareholders for taking client's shares without adequate compensation, leading to settlement.
Represented minority shareholder in shareholder oppression litigation against majority shareholders which led to a sale of the minority shareholder's stake on favorable terms.
Represented multiple financial institutions in a variety of litigations related to distressed loans, including enforcing and seeking to recover on loan instruments, commercial mortgage foreclosure actions, and defending against counterclaims brought against lenders in foreclosure actions.
Represented widow in interpleador action regarding distribution of life insurance proceeds, obtaining summary judgment awarding all proceeds to our client.
Represented multiple financial institutions in FDCPA, FCRA, and related litigations brought by consumers.
Represented client against multi-million dollar tortious interference, trade secret, and antitrust litigation brought by a competitor, involving complicated novel issues regarding federal court jurisdiction.
Represented multi-level marketing company accused of breaching consumer fraud statutes in both consumer class action and state enforcement litigations.
Represented multiple institutional investors in successful pursuit of securities fraud claims arising from purchase of over $600 million in asset-backed debt securities.
Served as national coordinating-counsel overseeing asbestos matters in various courts across the country.
Represented non-profit organization in successful pursuit of accounting malpractice claims.
Represented steel producer in anti-trust litigation related to alleged conspiracy to fix prices.
Represented hedge funds in investigation into potential claims regarding Madoff-related investments.
Represented minority shareholder and minority partners in litigations seeking information to which they were entitled.
Represented steel producer in obtaining a temporary restraining order that required its partner to immediately provide partnership information.
Represented low income residents in multiple successful suits brought against HUD and private developers, seeking to preserve affordable housing units.
Represented financial institution in litigation related to recovery for money lost as a result of attorney account holders being the victims of internet scams.
Represented trustees in resisting effort to involve assets of the trust in multiple divorce proceedings.
Boodell & Domanskis, LLC was formed in 2002 by Thomas J. Boodell, Jr. and Alexander R. Domanskis, two attorneys with a combined 90+ years of experience. B&D is a Chicago law firm passionately committed to clients and their success. We provide a range of services to businesses and individuals, including commercial loan negotiation, loan workouts, real estate transactions, commercial litigation, estate planning, corporate and compliance matters.
Partnering with our clients throughout the life of their endeavors allows us to help them recognize risks, avoid pitfalls and take advantage of opportunities. When problems arise, our litigation expertise in state and federal courts and in alternative dispute resolution enables us to provide effective guidance and advice. Our compassion and service builds strong personal relationships of trust and confidence with our clients.
We understand that law is a client-oriented profession and that responsive service is a key element in providing excellent legal advice. We strive to help our clients throughout Chicago, the United States and worldwide via our affiliation with the LEGUS International Network of Law Firms achieve both their immediate and long-term goals by providing efficient legal services tailored to the realities of their particular needs.
The B&D team strives to serve our clients with empathy, skill and honesty.