Eric G. Osborne
Tennessee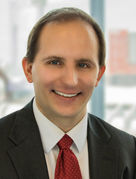 Sherrard Roe Voigt & Harbison, PLC
150 3rd Avenue South
Suite 1100
Nashville, TN 37201
Tel: (615) 742-4544

Email:

eosborne@srvhlaw.com
Web:

www.srvhlaw.com
Eric is a commercial litigator adept at both trial and appellate level work. He has single-handedly tried over a dozen cases before a jury and has briefed ten separate matters before the United States Supreme Court. He is knowledgeable in many different substantive areas of law and all aspects of practice, from pre-deal risk assessment to white-collar criminal investigations and disputes involving non-profit organizations.
At Sherrard Roe Voigt & Harbison, Eric focuses his practice on the firm's Antitrust and Cost Recovery, Government Compliance and Investigation, Civil Rights, and Commercial Litigation practices. For example, Eric was heavily involved in prosecuting the firm's antitrust actions against the credit card and packaged seafood industries. Eric has assisted multiple firm clients with confidential investigation and compliance questions. Eric is currently handling a civil rights case on behalf of a prisoner who has been held in solitary confinement for nearly eight years. And Eric has handled significant commercial litigation disputes, including breach of contract, trade secret, and construction disputes. He was also part of the team that eliminated a $150 million verdict on appeal in what is believed to be the largest appeal (by dollar value) in Tennessee history.  See Opry Mills Mall Ltd. Partnership v. Arch Ins. Co., 2018 WL 576194 (Tenn. Ct. App. Jan. 26, 2018).
Before joining Sherrard Roe Voigt & Harbison, Eric practiced law in Washington D.C. and Houston, Texas.  In his prior work Eric developed extensive experience in white collar matters covering the False Claims Act, Foreign Corrupt Practices Act, and investigations and questions related to the Office of Foreign Asset Control. Eric also acted as volunteer prosecutor in Houston and single-chaired over a dozen trials from voir dire to verdict. Because of this background, Eric often advises clients at Sherrard Roe Voigt & Harbison whenever white collar or other criminal issues may be implicated.
Much of Eric's practice has focused on appellate and trial level briefing of complex issues in federal and state courts. For his appellate work, Eric has been recognized the past three years (two years in Texas, one year in Tennessee) by "Super Lawyers" as a Rising Star—Appellate. In addition, since 2016, Eric has published law review articles in the flagship journals of two first-tier law schools. See Eric G. Osborne, et al., Rethinking Deference: How the History of Church Property Disputes Calls Into Question Long-Standing First Amendment Doctrine, 69 SMU L. Rev. 811 (2016); Eric G. Osborne, et. al, Intending the Worst: ISIS's Specific Intent to Destroy the Christians of Iraq, 46 Pepperdine L. Rev. 545 (2019).
We regularly represent clients at every level of the state and federal appellate courts in appeals encompassing all areas of the law and often in cases that are of broad significance. Our work has resulted in scores of reported decisions in areas such as business torts, health law, constitutional law, antitrust, corporate governance, employment law, and trusts and estates.
By way of example, our recent experience included representing the Tennessee plaintiffs in the U.S. Supreme Court's decision in Obergefell v. Hodges, which recognized a constitutional right to marriage equality for same-sex couples nationwide. SRVH also had the distinction of winning what we believe to be the largest appeal (by dollar value) in Tennessee history. Following an adverse verdict, SRVH was hired to replace trial counsel and handle the appeal following a verdict of $150 million involving insurance coverage of the Opry Mills Mall. We obtained a complete reversal of the verdict by the Tennessee Court of Appeals, resulting in not only an elimination of the $150 million verdict but also in recovery in millions of dollars of interest by our clients. Opry Mills Mall Ltd. Partnership v. Arch Ins. Co., 2018 WL 576194 (Tenn. Ct. App. Jan. 26, 2018).
Appellate litigation is a part of our firm's DNA, dating back to Justice Bill Harbison, Sr., who practiced at this firm after serving for 16 years as a Justice of the Tennessee Supreme Court.   Our former partner Andree Blumstein now serves as the Solicitor General of the State of Tennessee.  A majority of our litigators served as law clerks for appellate judges in the federal or Tennessee courts before joining the firm.  Our appellate practice has been recognized in The Best Lawyers in America and Super Lawyers (Corporate Counsel and Mid-South Editions).
We are skilled in providing strategic advice and guidance during the pre-trial and trial stages of litigation so that important legal issues will be preserved and the client will be best positioned for appeal.  Because we are able to bring fresh ideas and special experience in conceptualizing legal issues for appeal, we are frequently asked to consult on or handle appeals in cases that SRVH did not handle at the trial level.  And because our appellate practice is so highly regarded, we have been asked to file amicus curiae briefs in a number of important cases.
At Sherrard Roe Voigt & Harbison, we provide a broad range of legal services to businesses and individuals. Whether the representation involves a business transaction, complex commercial litigation, or other legal matters, we work closely with our clients to identify their goals, devise a plan to meet those goals, and efficiently achieve those goals.
Since our founding in 1981, we have emphasized uncompromising standards for hiring and retaining exceptional attorneys, which allows us to provide outstanding service and innovative legal solutions. The majority of our attorneys are recognized on one or more well-known "best lawyers" lists, and SRVH routinely ranks among the top local and regional firms.