Danielle Spinelli
Washington, D.C.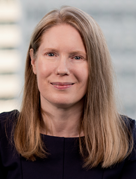 WilmerHale LLP
1875 Pennsylvania Avenue, NW
Washington, DC 20006
United States
Tel: +1 202 663 6000

Email:

danielle.spinelli@wilmerhale.com
Web:

www.wilmerhale.com
Danielle Spinelli is a nationally recognized appellate advocate and litigator. She has argued seven cases before the US Supreme Court and briefed many others, as well as briefing and arguing many cases before federal courts of appeals and district courts. Ms. Spinelli has one of the country's leading bankruptcy appellate practices: She has successfully argued four bankruptcy cases in the US Supreme Court, including two of the most important Chapter 11 cases of recent years, and has repeatedly prevailed in the courts of appeals on behalf of creditors challenging their treatment in bankruptcy. She is also a nationally recognized Native American law practitioner who has successfully represented tribal clients in multiple complex litigation matters and appeals. She has successfully handled matters in many other areas, including administrative law, antitrust, commercial law, constitutional law, criminal law and procedure, federal jurisdiction and preemption, insurance law, international trade, and trademark law. Ms. Spinelli is nationally ranked in appellate and Native American law by Chambers USA, which described her as "utterly brilliant" and someone who "thinks things through in a way that eludes most lawyers."
As noted, Ms. Spinelli has substantial experience in disputes and appeals raising complex bankruptcy problems in both the business and consumer arenas. In the US Supreme Court, she successfully argued Mission Product Holdings v. Tempnology, LLC (2019), which held that a trademark licensee does not lose its right to use the mark when the licensor rejects the license agreement in bankruptcy, resolving a fundamental and long-standing question about the nature and effect of rejection. She also successfully argued on behalf of priority creditors in Czyzewski v. Jevic Transportation Co. (2017), which held that a structured dismissal may not distribute estate assets in violation of the Bankruptcy Code's priority scheme. She also successfully argued Clark v. Rameker (2014), holding that inherited IRAs are not exempt in bankruptcy, and Bank of America v. Caulkett (2015), holding that Chapter 7 debtors may not strip off underwater junior liens on their houses. Also in the Supreme Court, she played a major role in the successful representation of the Marshall estate in Stern v. Marshall (2011), a watershed decision on Article III and bankruptcy court authority. In the courts of appeals, she successfully represented secured creditors challenging their treatment under Chapter 11 plans in a trio of cases stemming from the Momentive Performance Materials, EFIH and Houston Regional Sports Network bankruptcies. She also represented a major insurer in a series of appeals involving novel questions at the intersection of Chapter 11 and insurance law, including prevailing before the en banc Third Circuit on the question of insurer standing.
Our practice is universally recognized as among the very best nationwide. Clients retain us for the most complex and high-stakes matters, and our victories have helped shape the legal landscape in many arenas. Chambers has called our team a "bench of talent that is impressive beyond belief." We have an equally wide-ranging practice in the federal courts of appeals and the state appellate courts; handle or assist with complex legal matters in the trial courts; and provide strategic advice to clients in a wide variety of industries and across a broad range of substantive legal areas.
In 2020, 36 different lawyers made 58 oral arguments in 17 different federal and state courts of appeals. This includes four arguments in the US Supreme Court, 12 in the Federal Circuit, seven in the Ninth Circuit, and eight in the Second Circuit. In 2019, we recorded an additional 37 arguments by 13 lawyers in 10 courts. In 2018, 31 of our lawyers argued 52 cases in 16 federal and state courts of appeals.
We also have deep experience in the US Court of Appeals for the Federal Circuit, arguing more than 45 cases between January 2018 and December 2020.
WilmerHale is a leading, full-service international law firm with 1,000 lawyers located throughout 13 offices in the United States, Europe and Asia. Our lawyers work at the intersection of government, technology and business, and we remain committed to our guiding principles of:
providing quality, world-class legal and client services;
developing diversity among our lawyers and staff;
fostering an environment that promotes an entrepreneurial spirit, collaboration and collegiality by drawing on the exceptional talents and varied experience of our lawyers;
encouraging lawyers and staff to perform public service and give back to the community through pro bono work, government service, service to the bar, teaching, and supporting public institutions and charitable organizations; and
hiring and retaining exceptionally talented lawyers who possess the common trait of outstanding academic and personal achievements.
"She is a really brilliant lawyer, at both drafting and oral argument. She is an extraordinary advocate. She is just one of the most focused writers I have come across."