Brett E. Nelson
Indiana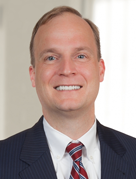 Plews Shadley Racher & Braun LLP
1346 N. Delaware St.
Indianapolis
IN 46202-2415
Tel: 317-637-0700 x225

Email:

bnelson@psrb.com
Web:

www.psrb.com
Brett is an experienced appellate and trial lawyer with a particular interest in technical and complex litigation.
He represents clients in a broad range of environmental, insurance coverage & recovery, construction, and commercial and intellectual property disputes.  His practice also includes copyright and trademark prosecution/registration and property tax litigation. Clients range from individuals and small companies to Fortune 250 companies.
A selection of Brett's favourite representations include helping a dying, retired bus driver obtain his disability pension and preserve it for his widow; requiring a client's competitor to compete on a level playing field by complying with the Clean Air Act in the manufacture of an aerosol product and establishing a competitor's right to recover attorney fees in bringing a successful citizen's suit under the Clean Air Act.
Brett's cases include numerous successful resolutions of claims on behalf of policyholders and other insureds for environmental, property, liability and errors and omissions claims both before and after trial.
Education
J.D., 1999, cum laude, Indiana University – Bloomington, Maurer School of Law
B.S., 1992, Biology, Indiana University – Bloomington
Bar Admissions
State of Indiana, 2000
United States District Court for the Northern District of Indiana, 2000
United States District Court for the Southern District of Indiana, 2000
United States Patent & Trademark Office, 2001
United States Court of Appeals for the Seventh Circuit, 2004
United States Court of Appeals for the Tenth Circuit, 2006
United States District Ct., District of Maryland, 2020
Supreme Court of the United States, 2009
Our litigation team is well known for its successful appellate work. Our appellate practice has helped to shape the law in many areas, including environmental law and insurance coverage.
Our emphasis on thorough and persuasive written work product and effective oral advocacy has secured numerous favorable opinions for our clients. Our attorneys are familiar with all aspects of litigation in state and federal appellate courts and are ready help whether or not we were counsel in the underlying litigation.
Key Appellate Experience
Lindsey v. DeGroot, 898 N.E.2d 1251 (Ind. Ct. App. 2009) (Determined Indiana's Right to Farm Act was constitutional and applied to bar the nuisance claim of a neighbor against DeGroot Dairy).
The Sierra Club v. Gates, 499 F. Supp. 2d 1101 (S.D. Ind. 2007) (successfully defended action which sought to enjoin continuing shipments of the product of the hydrolosis of the chemical warfare agent VX from a depot in Indiana to Veolia Environmental Service's incineration facility in Texas)
Pound v. Airosol Co., Inc., 316 F.Supp.2d 1079 (D. Kan. 2004) and 498 F.3D 1089 (10th Cir. 2007) (obtained summary judgment holding competitor's product, which contained ozone-depleting substances violated the Clean Air Act and establishing a competitor's right in the Tenth Circuit to recover attorney fees in bringing a successful citizen's suit under the Clean Air Act)
Raybestos Prods. Co. v. Indiana Dept. Envtl. Mgmt., Cause No. 49Dl2-0209-PL-001553 (Marion County Superior Court—summary judgment July 6, 2004, June 12, 2006 judgment ($11.6 million) & October 30, 2006 ($4.7 million), (obtained a $16 million judgment against the Indiana Department of Environmental Management for reneging on an agreed order for a risk-based PCB cleanup, reversed on appeal)
Port Comm'n v. Consolidated Grain & Barge Co., 701 N.E.2d 882 (Ind. Ct. App. 1998) (preliminary injunction regarding use of rail and port facilities)
Natural Gas Odorizing, Inc. v. Downs, 685 N.E.2d 155 (Ind. Ct. App. 1997) (duty to warn gas users)
Town of Montezuma v. Downs, 685 N.E.2d 108 (Ind. Ct. App. 1997) (negligence per se claims involving a gas explosion)
In 1988, our founders created a different kind of law firm. A law firm where attorneys provide high quality, cost-effective legal work with creative, innovative solutions to clients' complex matters. A law firm on the cutting edge of the law that emphasizes legal knowledge and innovation. A law firm that takes on hard cases because it values shaping the law. A law firm committed to helping businesses, large and small, thrive.
Originally founded as an environmental boutique law firm offering full-service environmental counselling and complex litigation services, our work has organically grown into one of the largest policyholder insurance coverage practices in the Midwest. Today, our breadth and depth of experience and technical knowledge allow us to handle complex issues and everyday client matters in sectors of manufacturing, energy, technology, life sciences, petroleum and energy, health care and waste services. Our attorneys are entrepreneurial, purpose driven, and committed to working with clients in all stages of their business growth or succession planning.
Our attorneys are committed to finding creative, cost-effective solutions that will deliver the best outcomes for our clients. Our firm culture encourages collaboration and respect among colleagues. We embrace a team approach to help shape winning strategies.